HOTEL GILZE - TILBURG IS OPEN
Van der Valk Hotel Gilze - Tilburg is open and applies stricter measures. We would like to ask you to take these measures into account to ensure your health and that of our employees. Thank you for understanding and trust in our hotel.
We hope to welcome you soon for a safe and comfortable stay at Hotel Gilze - Tilburg.


---
Open facilities
The facilities in our hotels are limited available to prevent too many people being in the same places at the same time.
Hotel Rooms & Suites
The rooms and suites are open as usual and can be booked via our website or via the reception: 0161-454951
Breakfast
The extensive live cooking breakfast buffet knows the following opening hours:
Monday to Friday from 6:30 am to 10:30 am
Saturday and Sunday from 7:00 am to 12:00 am
Restaurant & hotel bar
The renewed restaurant and the hotel bar are - according to guidelines from the government and RIVM.
We have a separate entrance and exit from the restaurant.
We ask you to wait 1.5 meters apart until our host shows you a table.
We only receive guests from shared households up to a maximum of 8 people.
Keep 1.5 meters away. Both to our employees and to other guests.
Room service is available for both dishes and drinks.

Fitness & Wellness
The fitness and wellness facilities are open. At check-in you will be informed about the available times and we can immediately plan a visit for you. In this space, too, stricter protocols apply for cleaning and hygiene.
Meeting Rooms
For (necessary) meetings we offer possibilities under strict observance of the prevailing safety measures in our rooms. For details and reservations, contact our banqueting department: events@hotelgilzetilburg.nl
---
Safe and comfortable
At Van der Valk, the health, safety and well-being of our guests and employees has the highest priority. In order to guarantee your health and safety, we would like to ask you to observe the following policy during your visit to our hotel:
Follow indicated walking direction and hygiene measures
Keep 1.5 meters distance from other guests and employees
Do not shake hands with fellow guests or hotel staff
Wash your hands regularly and in accordance with RIVM guidelines
Use paper towels to dry your hands
Cough and sneeze in your elbow and turn away from fellow guests and hotel staff
Preferably pay with pin or contactless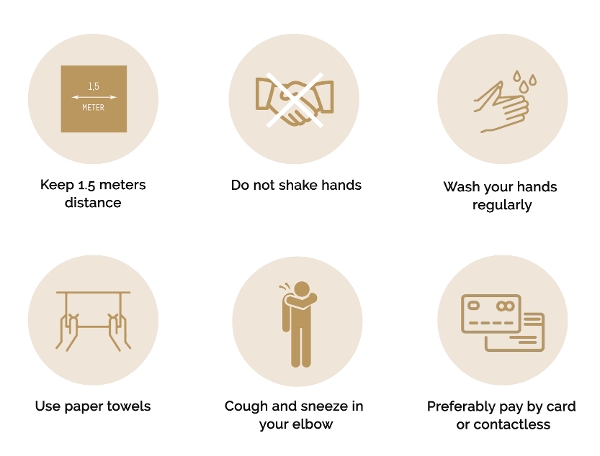 Do you have symptons of a cold, such as a runny nose, sneezing, sore throat, mild cough or increase to 38 degrees Celsius? Then we ask you to stay at home and not to come to the hotel.
We do everything we can to make your stay as safe and comfortable as possible. Thank you for your confidence in Van der Valk and we hope to welcome you in our hotel soon. If you have any questions, please do not hesitate to contact our reception.
With hospitable regards,
The Van der Valk family
---
Frequently asked questions

Can Van der Valk be open as a hotel and restaurant?
Yes, according to government guidelines it is allowed to be open as a hotel. Food and beverage outlets in the restaurant for our hotel guests may be open.
Is visiting a Van der Valk hotel safe?
Van der Valk takes your health and that of the employees very seriously. We have tightened measures within the hotel so that this can be guaranteed. All Van der Valk hotels are furnished according to the guidelines of the RIVM. As a hotel, we do everything we can to keep risks to a minimum.
As a hotel guest, can I use the restaurant facilities?
Yes, as a hotel guest you can use the restaurant. We use stricter measures here to make your visit to our restaurant as safe as possible. The à la carte restaurant is open but the Live Cooking / Sunday brunch are closed until the beginning of August.
Is it possible to order room service?
Yes, you can order room service from your hotel room via reception. There is an adapted menu for this that you will find in your hotel room. You can have breakfast, lunch and dinner brought to your hotel room.
What facilities are open in the hotel?
All facilities are open again.
Is it possible to use facilities such as renting an (electric) bicycle at the hotel?
This is possible.